The Accidents module is used to track community member accidents, including employees, students, contractors, customers, or visitors.
Instructions
To access the Accident module:
From the Salute landing page, select Accidents from the Events modules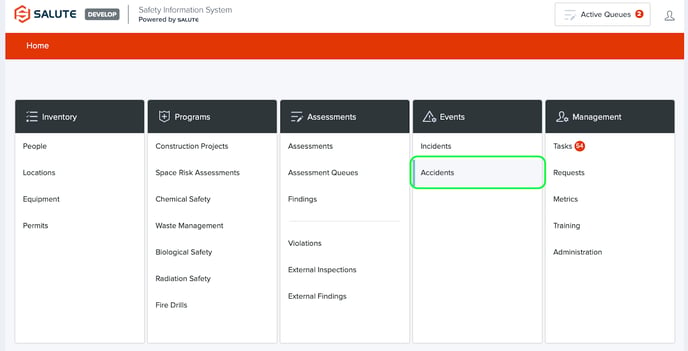 The Accidents landing page allows users to:
Select an individual accident to see more detail, add information, or conduct an investigation

Filter the list by selecting a column header (can do multiple filters) to see a select list of items

Create a new Accident

Export the item details to excel for additional analysis

Generate specific PDF or excel forms (i.e. OSHA 300)

When a specific item is selected or a new Accident is created, the user can view/edit:
Overview

Accident ID (Salute provided)

Status

Also Notify

Created By

Accident Summary

Person involved: Who was impacted by the accident

External Person Involved: If not a person within the directory, use this field

Person Type: Either an Employee, Vendor / Contractor, Visitor, or Student

Director/Leader: Who is in charge of the area of group of people where the accident happened

Accident Owner: Who is in charge of the accident
Accident Owner (Other): Who is in charge of the accident

Date of Occurrence

Date Reported

Building

Floor

Space / Room

Location (Other)
Accident Setting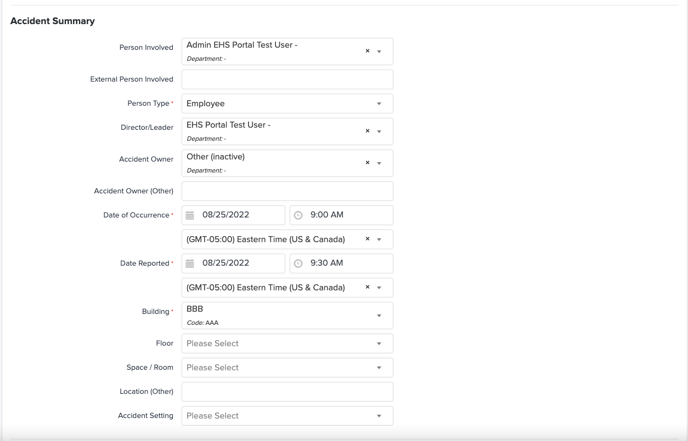 Accident Details

Injury/Illness type: Select one of more type

Description: Provide detailed information about the type

Accident Classification: select from dropdown list

Body Part Affected: Pick the body part(s) affected

Side Affected

Risk Factor

OSHA Case Classification: Select from dropdown list

Days Away from Work

Days on Job Transfer or Restriction
Attachments
Links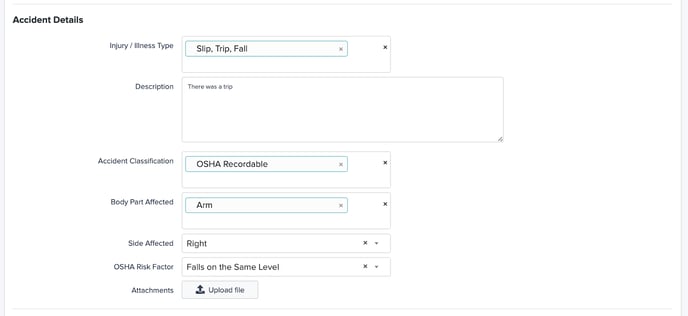 Treatment

Physician
Treatment Outside Work Site
Facility
Street
City
State
Zip
Employee Treated in Emergency Room
Employee Hospitalized as an In-Patient

Causal Factors

Unsafe Acts: Select from dropdown list

Personal Factors: Select from dropdown list

Unsafe Conditions: Select from dropdown list

Comments

Labels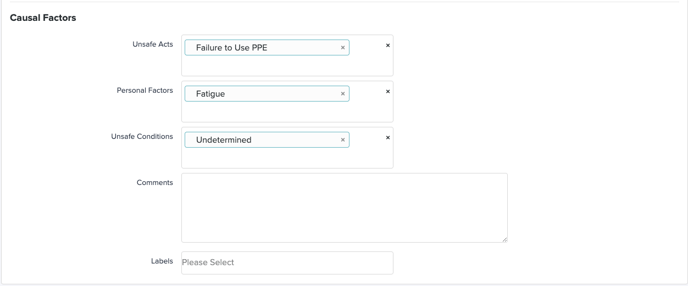 Corrective Actions

Corrective Actions Required: What needs to be done to ensure the accident is not repeated
Corrective Actions Due Date
Investigation Start Date
Close-Out Start Date
Corrective Actions Taken: What was done to ensure that the accident is not repeated
All Corrective Actions Completion Date
Completed Corrective Actions Completion Date
Completed Corrective Actions Verified By
Summary
Attachments
Links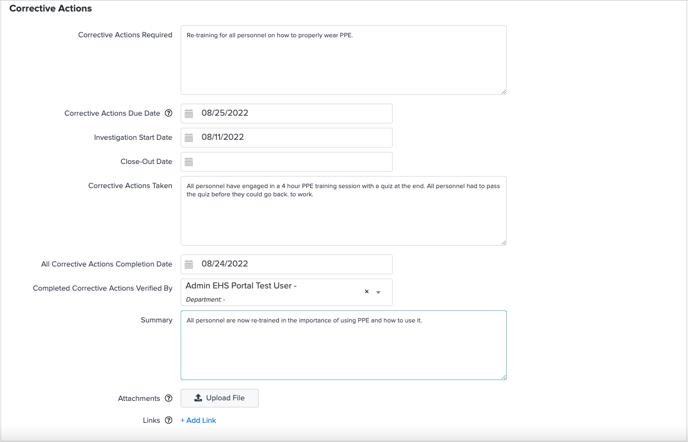 Preventative Actions

Preventative Actions Required
Preventative Due Date
Preventative Actions Taken
All Preventative Actions Completion Date
Preventative Actions Verified By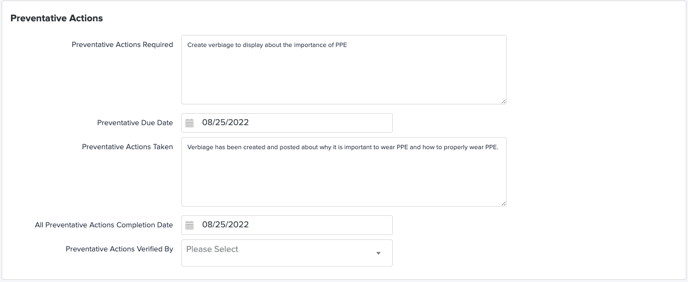 Internal Information

Internal Notes
Attachments
Links

Assign

Lead Investigator: The person in charge of investigating why the accident happened
Send Email Notifications

Metrics
Access the Salute Accidents Dashboard from the Metrics module on the Salute Portal.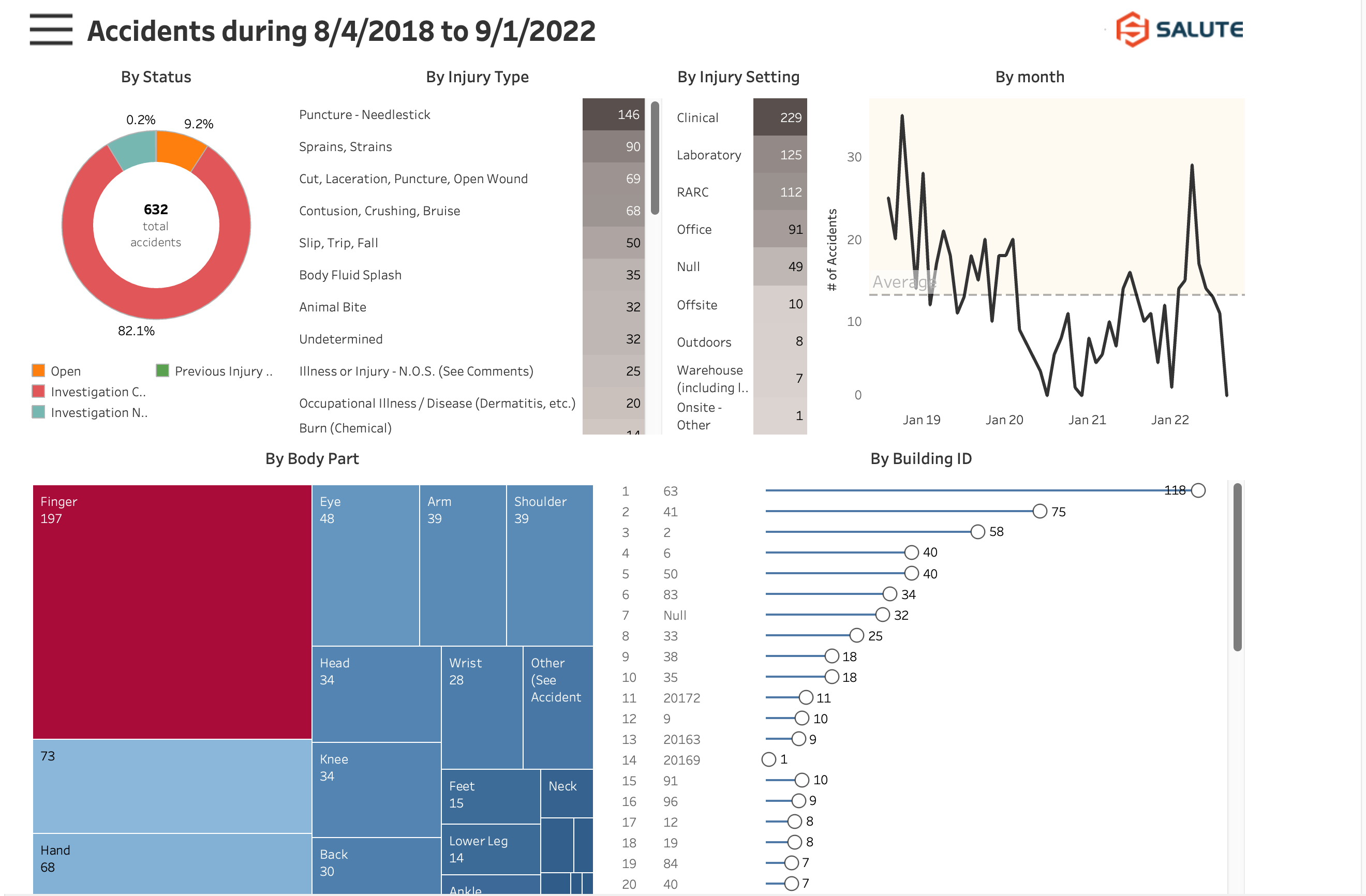 For additional information or technical support, contact support@salutesafety.com