Available with the Salute Learning Management System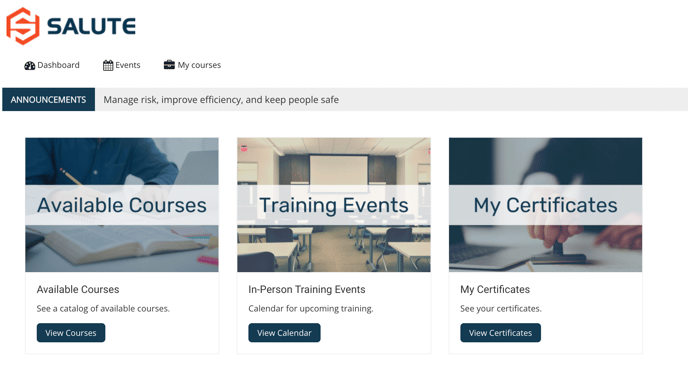 Salute maintains a library of Standard Courses available through the Salute Learning Management System (LMS). The sample list of courses that Salute currently offers below include a variety of interactive slide content, quizzes, and videos.
Courses vary in length based on content. They range from 5 minutes to 35 minutes.
Salute Course List
Asbestos Awareness
Blood-borne Pathogens Training and Biosafety Awareness
Compressed Gas Safety
Chemical Safety
Ergonomics in the Office Training
General Electrical Safety
General Fire Safety
General Laboratory Safety
Hand Washing Best Practices to Keep Workers Safe
Hazard Communication
Hazardous Waste Management
Hearing Conservation
Heat Illness Prevention
Hot Work Safety
Indoor Air Quality
General Laser Safety
Lock-Out/Tag-Out Awareness
Magnet Safety
OSHA Workers' Rights Awareness
Confined Space Awareness
Preventing Falls in the Workplace
Preventing Sprains and Strains
Regulated Medical Waste
Respirator Safety
Scaffolding Safety
Sexual Harassment Prevention
Working at Heights Safety
Young Workers' Rights Awareness
For more information about Training, contact support@salutesafety.com.